Medline's French Facility Celebrates Environmental Week
8 th November 2019
20/09/2019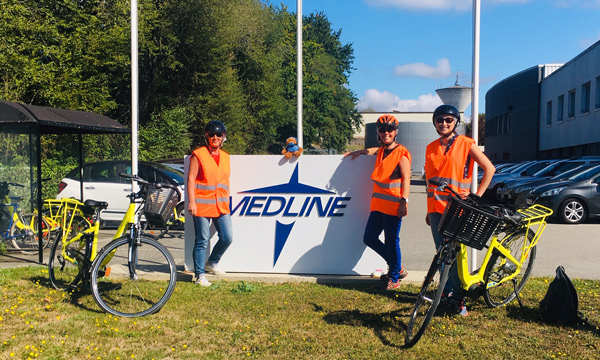 Taking Medline's corporate social responsibility focus on the environment to heart, employees at our Châteaubriant facility participated in environmentally themed activities over the course of the past week. Spearheaded by Medline employees, the goal of this special week was to make employees aware of sustainable development issues and show them ways they could contribute, individually and collectively, to preserve a healthy planet for current and future generations. Each day focussed on a different topic addressing how we can do what we are currently doing, but better.
Monday:

To encourage working and moving better, the week kicked off with a dedication to reducing our carbon footprint. The company's internal carpooling platform was advertised, the benefits of working from home were discussed and e-bikes were made available for the entire week to journey into the city for lunch!

Tuesday:

the importance of health and well-being was the focus. To work and live better together, healthy smoothies were served.

Wednesday:

To make better use of our resources, employees from our environment, health and safety department provided tips to employ at home and work on saving energy and sorting waste. Currently, 90 per cent of waste in Medline's Châteaubriant facility is recycled, and with these additional tips the hope is to further increase this amount. In addition, we celebrated our LEED green building certification for our new coming office building.

Thursday:

Medline employees took to the grounds of the facility to clean up waste with the goal of taking better care of the planet.

Friday:

The week wrapped up with a focus on eating better and more responsibly. Friday's lunch contained food from local producers and generated zero waste. This was achieved by packaging the food in edible containers and purchasing eco-cups to eliminate plastic waste.
Margaux Thomas (Environment, Health and Safety Coordinator) sums the week up best:
'As a medical company, our focus is on health. And our physical environment and health are intimately intertwined. We hope that our theme week has encouraged our employees to do even more for the environment and contribute to sustainability'.